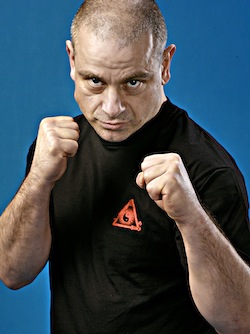 Tony Ligorio's Martial Arts career started in 1979 when he took up Kung fu. Two years later, at the age at 13, he met Grand Master Shin Dae Woung. He studied under him for 10 years becoming his YOUNGEST GREEN BELT AND INSTRUCTOR.
Tony started teaching I Sing , Pakua, Tang Lang and Tai Chi Chuan and opened his first association to promote Traditional Chinese Martial Arts . During that period he won 7 Kung Fu And Sanda Italian Championships and 2 Qualifications for the Kung fu and Sanda World Championships.
In 1990 he met Sifu Guro Bob Breen at the first italian JKD Kali Association and became one of the first JkD Kali Panantukan Instructors in Italy (1993). In the mean time he continued his growth in Traditional Martial Arts with several teachers and fought in Kickboxing, Shoot Boxe And Sanda.
In 1996 and 1998 he won the Italian and the European Kali Stick fighting Campionships and qualified for the World stickfighting Championships (1996 Los Angeles-1998 Cebu City). In 1996 he met Erik Paulson for the first time.
When he returned to Italy he opened his first Gym in October. Tony's desire to train, practice and improve has never stopped. Over more than 30 years he has trained and studied with many masters such as:
ANDREE MANNART
DIDIER LE BORGNE
FRANCOIS PENNACCHIO
JOUSSOP
ANDRÈ PANZA
KOUIDER
LI YU PAO
PAT O'MALLEY
MIKE STONE
JAN WWELMER
DAN INOSANTO
RICHARD BUSTILLO
TED WONG
MARK MC FANN
TERRY BARNETT
RICKY YOUNG
CASS MAGDA
DAMON CARO
TSUYOSHI ABE
HENRY JAIME
JEFF ESPINOU
ONDO CABURNAY
CACOY CAGNETE
DIONISO CAGNETE
NARRYE BABAO
FELIX ESQUENDAS
PACHITO VELES
He is CERTIFIED by:
ERIK PAULSON FULL INSTRUCTOR AND HIS ITALIAN LEAD PRO COACH
BOB BREEN FULL INSTRUCTOR AND HIS REPRESENTATIVE FOR ITALY
MASTER IN KUNG FU FOR I-SING TANG LANG PAKUA STYLES
MASTER IN TAI CHI CHUAN WUDANG AND CHEN STYLES (WACIMA)
MASTER IN KICKBOXING AND MUAY THAI (FE.NA.SCO. AND F.I.K.B.M.S.)
TEACHER OF BOXING
NRG BAG FUNCTIONAL TRAINER