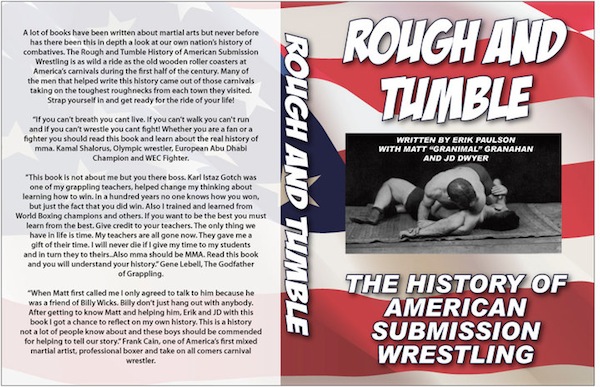 Erik Paulson's new landmark book Rough and Tumble explores the History of American Submission Wrestling in a way the style has never been looked at before. Erik worked with American Combat Association president Matt Granahan and researcher and author JD Dwyer to trace the history of catch wrestling throughout the world and explore the overwhelming influence the style has had on No Holds Barred Fighting and Mixed Martial Arts. In addition to their extensive research the authors sat down with the last living take on all comers carnival wrestlers to explore the history from a first hand perspective. From George Washington and Abraham Lincoln, to Mitsuyo Maeda's background before teaching the Gracie Family to the dawn of the Ultimate Fighting Championships this book touches upon virtually every facet of the history of grappling. Rough and Tumble is guaranteed to captivate and enlighten fans, fighters and history buffs alike.
"I highly recommend this book to anyone with an interest in MMA, wrestling, and martial arts." Mark Hewitt author of Catch Wrestling and Catch Wrestling Round 2
"This book is excellent. I have recommended it to alot of people to read." Kamal Shalorus olympic wrestler, European ADCC champion, undefeated WEC fighter
"I love the book and wish you guys lots of luck man I really do." Neil Melanson, Randy Couture's grappling instructor at Xtreme Couture Las Vegas
"Erik Paulson is the read deal. I would highly recommend this book to fans and fighters." Gene Lebell
"Thank you for honoring the legends of wrestling's past. Great book." Charles Sloan, President of Classic Pro Wrestling
"These boys should be commended for helping to tell our story." Frank Cain, one of America's original mixed martial arts fighters and take on all comers carnival wrestler.