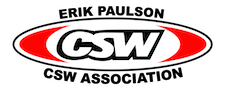 Erik Paulson Combat Submission Wrestling Professional Coach Association AFFILIATE AGREEMENT
RECITALS:
WHEREAS , CSWA has developed a proprietary system of teaching and training combative martial arts including, but not limited to , grappling, wrestling, striking, kicking and pummeling, both stand up and on the ground;
WHEREAS, CSWA has offered memberships to its approved affiliates under terms and conditions hereinafter specified, which memberships allow CSWA affiliates to use the proprietary CSWA teaching and training methods as well as certain CSWA proprietary logos;
WHEREAS, Affiliate operates a martial arts academy and desires to participate in the rights and benefits associated with membership in CSWA and desires to become a CSWA affiliate;
NOW THEREFORE, in consideration of the mutual covenants and agreements contained herein and other good and valuable consideration, the receipt and sufficiency of which are acknowledged by the parties, the parties hereby agree as follows:
ARTICLE I
RIGHTS AND RESPONSIBILITIES
Section 1: Fees
Affiliate agrees to pay a monthly fee of $200.00 to CSWA by automatic electronic funds transfer.
Section 2: Single Location
This agreement between Affiliate and CSWA entitles Affiliate to the rights described hereunder at a single location only which location is specified in Paragraph 1 of this Agreement. The rights described hereunder apply only to the listed location and nowhere else. Should Affiliate desire to obtain affiliate status at some other or additional location, Affiliate must apply to CSWA for an entirely separate affiliate agreement which shall be subject to the then prevailing CSWA terms and conditions including fees.
Section 3: Academy Growth and Stability
Due to the fact that CSWA has a vested interest in maintaining a wholesome, productive, safe and successful image for its proprietary systems, Affiliate agrees to run a stable training location with a minimum number of ten (10) students at the location listed. CSWA recognizes that for the initial period of six months a startup affiliate may not be able to meet this minimum requirement. However, after six months CSWA expects Affiliate to meet and increase this minimum student population. CSWA encourages all affiliates to remain active in supporting an acceptable number of students given their location and territory. In addition, CSWA reserves the right to terminate association status should active enrollment fall below ten (10) students.
Section 4: Instructor Rank
If the affiliate's Primary Instructor does not hold the rank of Coach or higher under the CSWA System, then Affiliate agrees that the Primary Instructor will actively pursue CSWA training with the goal of reaching the rank of Coach. Affiliate agrees, understands and acknowledges that ERIK PAULSON is the only individual authorized to issue the certification as a CSWA Coach and that the additional training required to become certified as a CSWA Coach will require additional fees for training, as well as travel and other related expenses which are not included in the regular monthly fees specified in this agreement.
Regardless of the rank of affiliate's Primary Instructor, CSWA may require a review of the Primary Instructor's current rank and abilities. The review will be conducted by an individual designated by CSWA . Based on the review, CSWA may require the Primary Instructor to undertake a training plan (possibly including additional reviews) to assist the Primary Instructor in learning the CSWA curriculum and improving his/her abilities. The Affiliate agrees to pay reasonable fees and expenses as may be required to conduct the review and/or to undertake the required additional training.
Section 5: Training Camps
Affiliate agrees that its Primary Instructor will attend a minimum of one CSWA training camp each year. CSWA encourages instructors to bring students to training events. Such attendance by students constitutes an important learning experience for the student and demonstrates Affiliate's support for CSWA. Fees for CSWA training camps are not included in this Agreement and constitute a separate obligation of the Affiliate.
ARTICLE II
RANK AND PROMOTION
Section 1: General Guidelines
Due to the fact that various systems of martial arts have historically suffered from contradictory and inconsistent student ranking policies, which serves to dilute the value of rank in many systems, and due further to the fact that Brazilian Jujutsu (BJJ) has a somewhat more universal and consistent ranking experience, in this Agreement CSWA will use Brazilian Jujutsu a as a general guideline or reference to illustrate the level of proficiency required for various coaching ranks under the CSWA System.
Coach Level 1 Details: The material required to achieve Coach Level 1 is shown on the Student Level 1 – 5 DVDs. Typically it requires 2 – 4 years in the program to become Coach Level 1. Mastery of Student Levels 1 – 5 will take you to Coach Level 1. To achieve Coach Level 1 you must master the five basic position requirements and five takedowns.
Coach Level 2 Details: The mastery of the five secondary positions and five additional takedowns. Note: Coach Level 2 curriculum will be available on DVD soon. This will consist of the five secondary positions and supporting material.
Coach Level 3 Details: To achieve Coach Level 3 you must master all of the Coach Level 1 & 2 material and learn all of the required MMA Drills, Techniques, and Coaching Techniques to work with MMA fighters.
Coach Level 4-7 Details: Note: These ranks are also dependent on the amount of time you have worked with ERIK PAULSON. The average number of years it takes to achieve Coach Level 4 is seven to eight years. Coach Level 5 typically takes ten years to achieve. Coach Level 6 typically takes twelve years to achieve. Coach Level 7 (Super Coach) is considered a lifetime level. This level is reserved for those individuals that are in it to win it, for life. Most of our CSW Instructors who are at Coach Level 4 – 6 are Black Belts in Brazilian Jiu-Jitsu, have gyms, or train fighters and are champions or have champions actively training with them. This includes grappling tournaments, kickboxing, and MMA events.
Section 2: Rank Certification
Upon successful completion of a rank test a certificate from the CSWA will be provided for the testing student. Both ERIK PAULSON and the Affiliate 's Primary Instructor must sign the certificate showing the official lineage of the testing student in the CSWA System.
Section 3: CSWA Rank Exclusivity
In no case shall any member of Affiliate's staff accept what purports to be CSWA rank from anyone other than an active CSWA member in good standing and authorized to issue such rank by ERIK PAULSON.
Section 4: Active Membership
Affiliate agrees to ensure that in order to attain rank of student level 1 and higher in the CSWA system, an individual must be an active member in the CSWA. Membership guidelines and fees are discussed online at www.cswcoach.com. Once rank is properly achieved in the CSWA under ERIK PAULSON, it will be recognized and documented by the CSWA.
ARTICLE III
GENERAL GUIDELINES
Section 1: Curriculum and Etiquette
Affiliate agrees to abide by and teach the curriculum of the CSWA. Affiliate also agrees to follow the rules of etiquette of the CSWA. In order to facilitate this requirement, Affiliate agrees to read, become familiar with and abide by both the CSWA curriculum and rules of etiquette. Application and acceptance into the CSWA constitutes Affiliate's warranty and representation that all of its students and instructors have read and are willing to abide by the CSWA curriculum and rules of etiquette.
Section 2: Promotion Efforts
The Affiliate may submit information and updates regarding its academy to the CSWA for inclusion on the CSWA website. Affiliate's information will be promoted along with CSWA advertising and/or marketing efforts.
Section 3: Affiliate Website
The Affiliate agrees to maintain an active website about its academy. Such website shall include a dedicated page with information about its affiliation with the CSWA . Additionally, the lineage of the Affiliate Primary CSWA Instructor must be clearly displayed along with a copy of the official Certificate of Affiliation from the CSWA for the Affiliate. Any necessary artwork and content will be supplied to the Affiliate by CSWA for this posting.
Section 4: Visiting Members
The Affiliate agrees to welcome visiting, properly verified members of the CSWA, and to allow them to train at no charge when possible. By welcoming visitors the CSWA hopes to strengthen relationships within our organization.
Section 5: Termination by CSWA
CSWA reserves the right to terminate this agreement at any time, removing the Affiliate from the association, if the Affiliate is found to be in violation of the terms of this Agreement. CSWA also reserves the right to terminate this Agreement if the affiliate no longer represents CSWA in an ethical, safe and otherwise acceptable manner. In the event of such termination, all future association fees and benefits defined under this Agreement will cease. However, any fees already paid by Affiliate will be retained by CSWA. After such termination, Affiliate will no longer be permitted to publicly display any CSWA markings or logos nor use the CSWA training materials and curriculum. In the event of termination, Affiliate shall make it clear to the public that it is no longer an affiliate of CSWA nor a member of the Association.
Section 6: Termination by Affiliate
Affiliate may withdraw from and terminate this Agreement at any time by submitting written notice to CSWA . Withdrawal from this agreement by the Affiliate shall terminate all future rights and obligations under this Agreement. In the event of such termination, all association fees and benefits defined under this agreement will cease and any fees already paid will be retained by CSWA. After such termination, Affiliate will no longer be permitted to publicly display any CSWA markings or logos nor use the CSWA training materials and curriculum. In the event of such termination, Affiliate shall make it clear to the public that it is no longer an affiliate of CSWA nor a member of the Association.
Section 7: Notices and Primary Instructors
Notices and communications shall be delivered to the following addresses:
If to CSWA: Combat Submission Wrestling Association
4080 N. Palm ST. #801
Fullerton, CA 92835
818-915-3225
Section 8: Change of Address
Any party may change its address for the purpose of Section 7 above by giving written notice of such change to the other parties.
Section 9: Choice of Law
This Agreement shall be interpreted and governed in accordance with California law, without regard to its conflict of law's provisions.
Section 10: Counterparts
This Agreement may be executed in one or more counterparts, each of which shall for all purposes be deemed to be an original and all of which shall constitute the same instrument.
Section 11: Modifications
Any modifications or amendments to this Agreement shall be in writing and shall be signed by the parties hereto.
ARTICLE IV
PROTECTION FROM LIABILITY
Section 1: Release of Liability
The Affiliate and each of its students and instructors agree to file no suit, nor make any claim of liability against the CSWA, or any of its agents, employees, members, instructors, or students, for conduct occurring within the Affiliate's academy. Any type of combat sport is inherently dangerous and CSWA assumes no responsibility or liability for and is expressly released from liability or responsibility for any conduct, event, accident, injury occurring in Affiliate's academy. Any injuries which occur during training or competition are not the responsibility of the CSWA .This Agreement creates no agency between Affiliate and CSWA.
Section 2: Insurance
Affiliate shall obtain and maintain general liability insurance with a carrier having an A.M. Best Rating of at least A in the amount of at least One Million Dollars ($1,000,000.00) per occurrence. Such insurance shall name CSWA as an additional insured. Such agreement of insurance shall contain a waiver of its insurer's right of subrogation against CSWA. On or before ten (10) days from the acceptance of this Agreement by CSWA, Affiliate shall submit to CSWA a certificate evidencing the required insurance which states that thirty (30) days' notice of cancellation or modification of the required insurance will be given to Affiliate, and CSWA. Affiliate shall provide a copy of the policy to CSWA upon request. Affiliate shall be responsible for all fees related to obtaining and maintaining such insurance and for paying or otherwise accounting for any deductible portion of coverage under the required insurance.
Section 3: Required Liability Waiver
Release and Assumption of Risk Form Affiliate agrees that prior to allowing any student to participate in CSWA training, competition or related activity, Affiliate will require each of its CSWA students to sign a Liability Waiver, Release and Assumption of Risk form that specifically releases CSWA, its employees, agents, officers , directors and affiliates as well as ERIK PAULSON from any potential liability arising out of CSWA training , competition or activity.
ARTICLE V
LICENSING AGREEMENT
Section 1: Use of Erik Paulson Imagery
The Affiliate is only allowed to use the imagery, name and likeness of ERIK PAULSON or the CSWA as approved by the CSWA. The affiliate is not allowed to create merchandise for sale with CSWA imagery/branding without clear and prominent display of the affiliated location in conjunction with any CSWA imagery. ALL materials created by the Affiliate for purpose of marketing or resale that reference or use CSWA imagery must be approved by the CSWA prior to distribution or public viewing.
Section 2: Use of Combat Submission Wrestling Name, Likeness or Imagery
The ONLY approved artwork provided for affiliate use is the CSW Team logo.
AFFILIATE SIGNATURE AND ACCEPTANCE
By clicking on the [Subscribe] button, I accept all responsibilities set forth and discussed in this CSWA – Affiliate Agreement. I accept and acknowledge that the CSWA and ERIK PAULSON assume no liability arising from any bodily injury, damage to property or other loss and any consequence thereof, whether known or unknown, resulting from my own or my students' or instructors' participation in CSW.