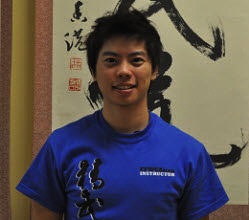 Francis Fong Martial Arts Academy
11035 Medlock Bridge Road. Suite 10
Johns Creek, GA 30097
770-623-4997 | Email | Website
Kevin is an instructor in Wing Chun under Sifu Francis, and teaches adult Wing Chun and CSW classes as well as the JKD Juniors and Lil' Dragons classes at FFMAA.
Began the training since 7 years old, Kevin started his first martial arts in WuShu and traditional Chinese KungFu in Taiwan. After couple years of training, he began his second martial art training path in Aikido when the family moved to a different town in Taiwan.
At the age of 13 he moved to United States with the Family and began studying TKD. He has achieved his belt belt under ITA and right after that he began his training under Sifu Francis Fong.
With the Passion of training Martial Arts, he has trained in numerous different system such as WingChun, JunFan, Kali, Muay Thai, Gracie Jiu-Jitsu, Silat, CSW and STX.
Kevin has also achieved his Apprentice Instructor certification in Muay Thai under Ajarn Chai Sirisute. Kevin previously taught Wing Chun and Mixed Martial Arts (including Muay Thai and Jun Fan Gung Fu) at the University of Georgia.