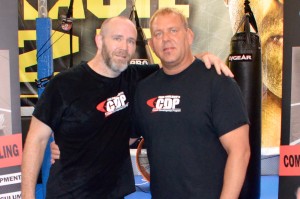 Garry Davis
Brazen Martial Arts
92 North Main St
Suite 15B
Windsor, NJ 08561
Email | Website
Garry Davis has been a student of martial arts for more than 20 years. He began his training with Ishin Ryu Karate and moved on to focus primarily on Jeet Kune Do/Filipino Kali and Combat Submission Wrestling (CSW). He has also trained in Penjack Silat, Brazilian Jiu Jitsu, Catch as Catch Can Wrestling, and Muay Thai.
Full Instructor in Jeet Kune Do/Filipino Kali under Sifu Paul Vunak.
CSW Representative Instructor under Sensei Erik Paulson.
STXKICKBOXING Student Level 4 under Sensei Erik Paulson.
Level 3 Catch Wrestler under Coach Billy Robinson (RIP).
Black Belt in Brazilian Jiu Jitsu under Master Rigan Machado and Sensei Erik Paulson.
Garry Davis is a strong supporter of cross-training in order to remain current with as many disciplines of the martial arts as possible.
To that end, in addition to those listed above, he has trained with Arjan Greg Nelson (The Academy), Master Eddie Bravo (10th Planet), Geovanny Martinez (10th Planet), Phil Norman (Ghost Fighting System), Wade Schalles (Scientific Wrestling), Sifu Bob Jones (JKD), Arjan Chai Sirisute (Thai Boxing Association of America), Coach Chris Ayres (Princeton University Wrestling), and Coach Joe Pollard (Rutgers University Wrestling).