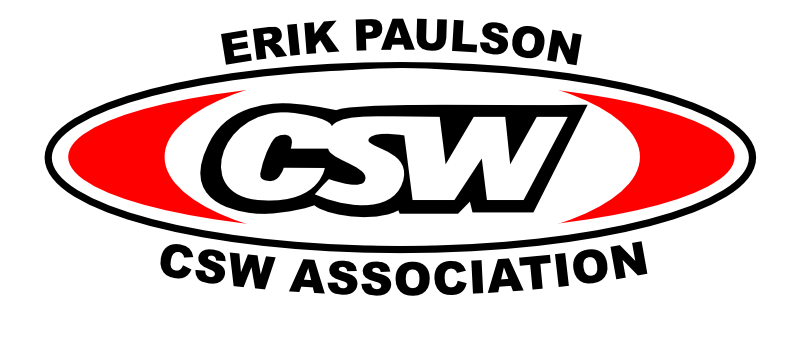 OUR MISSION
Building Students & Professional Coaches through Organized Training & Structured Programs in a Supportive Team Environment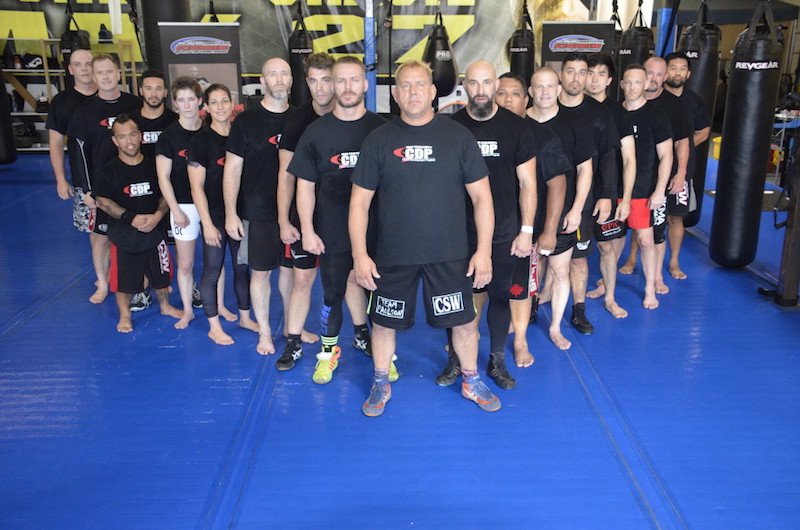 Our mission is to help you, the beginning student, aspiring instructor, or the professional martial artist to find the right program that fits your needs. If you are just starting out, our premium student program is for you! If you are a professional, we will help you implement an organized, professional grappling, striking or MMA program into your school. Through ongoing camps that are free to our affiliate members we offer you organized continuing education opportunities to grow your skills both on and off the mat. We also have an exclusive online affiliates area for 24-7 ongoing training resources, marketing materials, and program development materials.
Latest Release: CSW 2015 World Conference
4 DVD / Download Set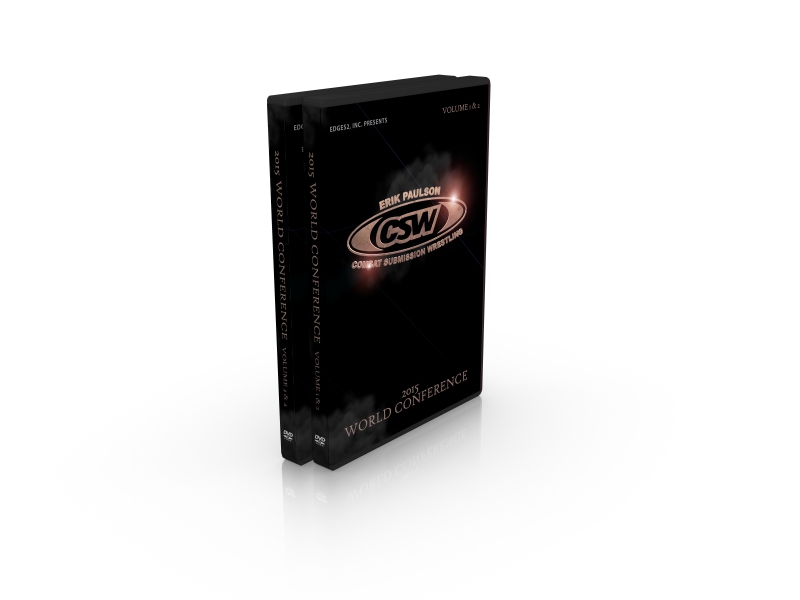 4 DVD / Download Set
Outline Included
Erik Paulson
Phil Norman
Roland Ferrer
Roger Machado
Fergus McTeggart
Ryan Gray
CSW 2015 World Conference – 4 DVD Set. 6 Hours of training in Combat Submission Wrestling, STXKICKBOXING, Olympic Tae Kwon Do, MMA, Wrestling, Brazilian Jiu-Jitsu, Silat Warm Ups, Boxing. Featuring Erik Paulson, Phil Norman, Roger Machado, Roland Ferrer, Fergus McTeggart, Ryan Gray.
New Release: CSW FOUNDATIONS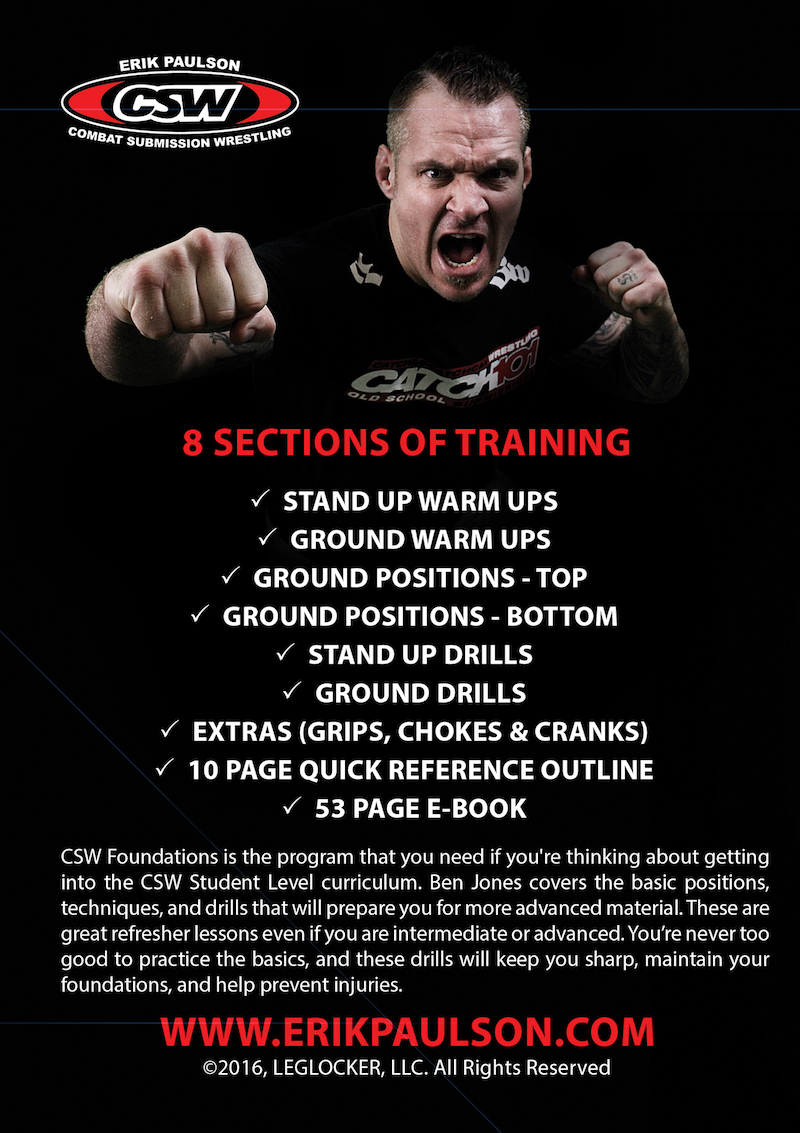 CSW Foundations is the program that you need if you're thinking about getting into the CSW Student Level curriculum. Ben Jones covers the basic positions, techniques, & drills that will prepare you for more advanced material. These are great refresher lessons even if you are intermediate or advanced. You're never too good to practice the basics, and these drills will keep you sharp, maintain your foundations, and help prevent injuries.
This Training is Divided into 8 Sections
Stand Up Warm Ups
Ground Warm Ups
Stand Up Positions
Ground Positions – Top
Ground Positions – Bottom
Stand Up Drills
Ground Drills
Extras (Grips, Chokes, & Cranks)
10 Page Quick Reference Outline Included.
53 Page Manual With Photos Included.
1 Hour, 47 Minutes.
Chapter Markers For Easy Navigation.
CSW PREMIUM ONLINE STUDENT PROGRAM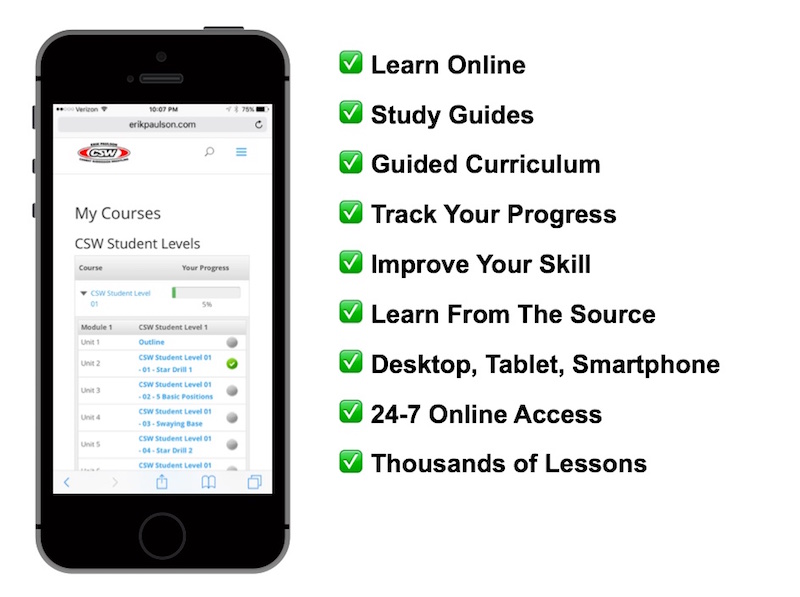 FAQ
Q: Do I have access to the entire library?
A: Yes. As soon as you join, you have instant access to the entire online library. At this time, there are over 2500 lessons and we are adding more on a regular basis.
Q: Can I achieve rank from your online courses?
A: No. The only way to achieve student level rank is from Sensei Erik Paulson or one of our Affiliate Coaches. Coach rank is only achieved by personally being evaluated and tested by Sensei Erik Paulson. The courses are here for you as an awesome learning and reference tool. You still have to put in the work, get on the mat, and get your training time. These courses are here to make the process faster and easier for you. You have Erik Paulson's awesome system available to you 24-7.
Q: There is a lot of material. Where do I start?
A: If you are new, we recommend you start with CSW Student Level 1. This will give you the basics to build on in subsequent lessons. The courses are broken down for you to focus in one area at a time, or feel free to jump around and try different things! You are not limited and can customize the learning experience to fit whatever works best for you.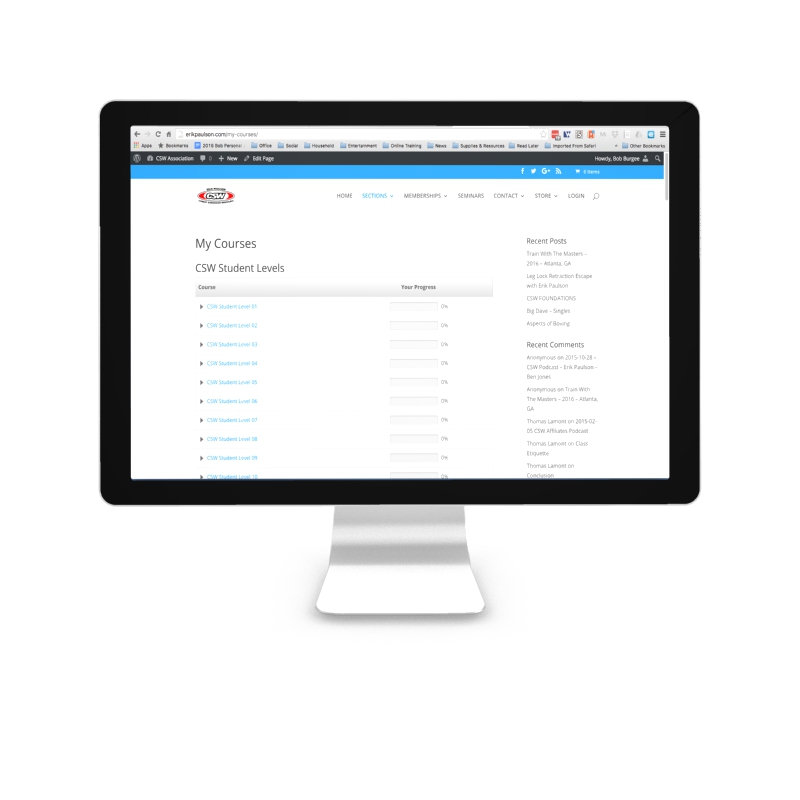 MONTHLY
$29.95
Low Monthly Tuition
No Contracts
No Obligation
ANNUAL
$299.95
Two Months FREE
No Contracts
No Obligation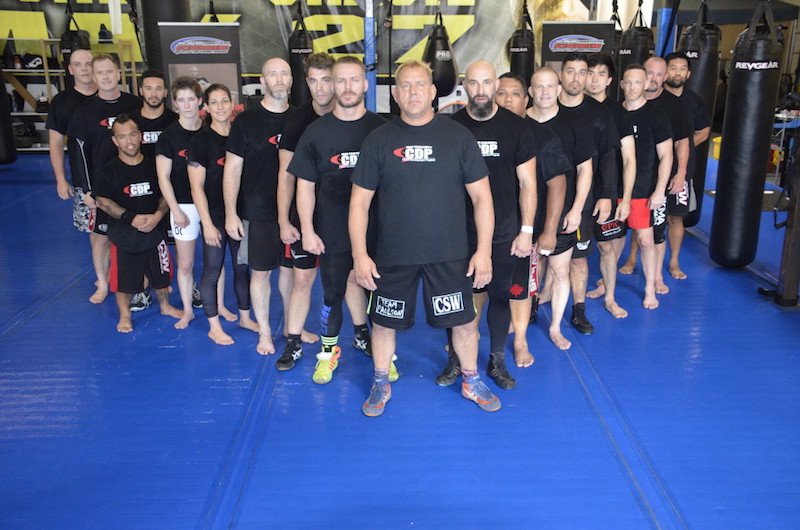 CSW AFFILIATE PROGRAM
Professional Curriculum Materials
Video Guidance
Marketing Materials
Opportunity To Test For Rank
Access To Affiliates Only Video Courses
Public Listing On The Website As An Affiliate
DOWNLOADABLE COURSES
Save to your personal library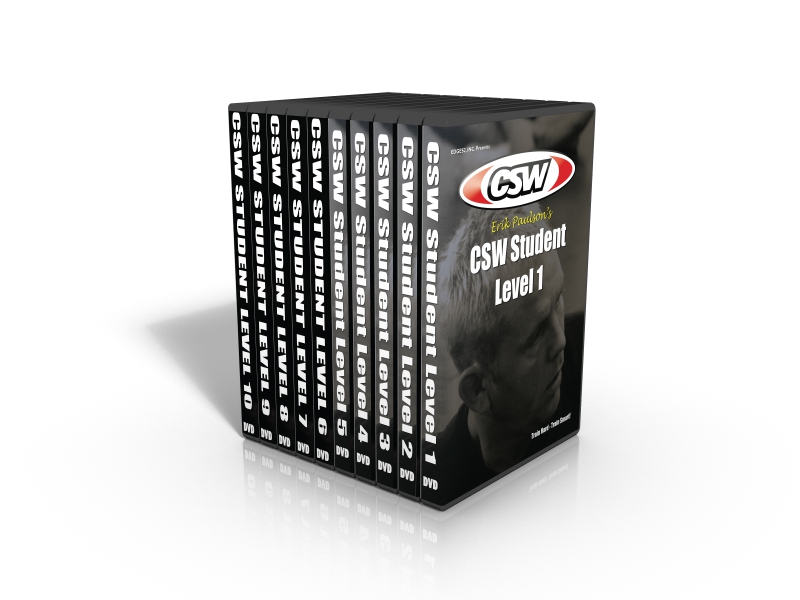 High Quality Media
You Own The Video
Save To Your Hard Drive For Offline Viewing
Online Viewer Available
iTunes Ready With Chapters
Instant Access
DRM Free
ONLINE STORE
DVDs - Clothing - Books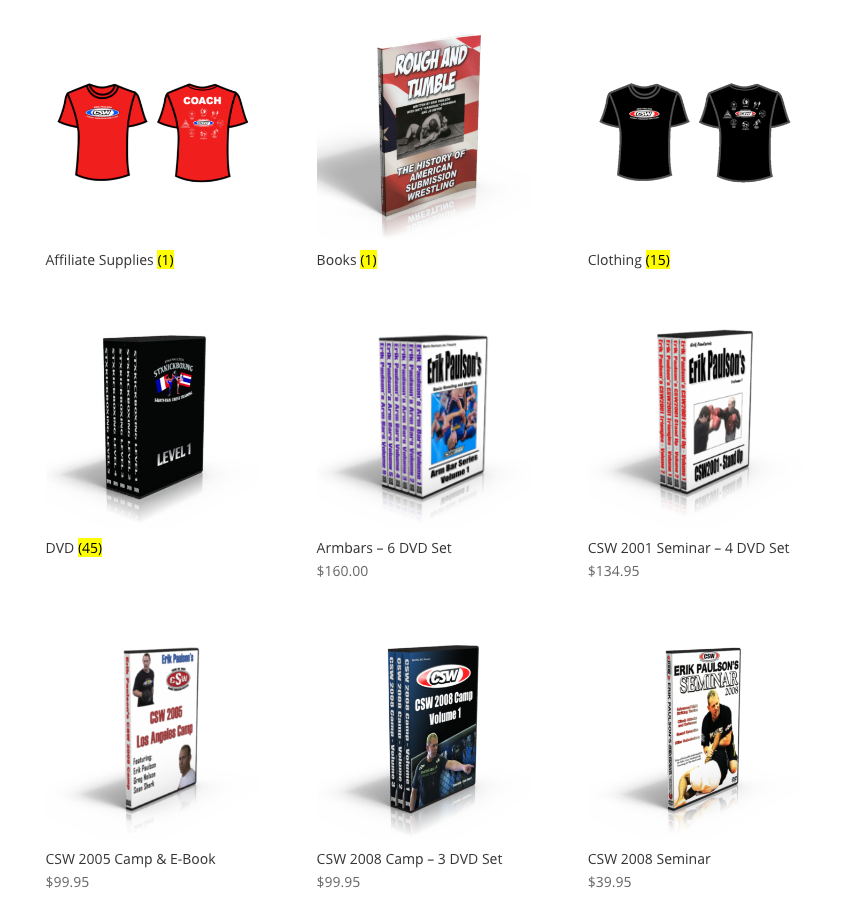 Erik Paulson DVDs
Greg Nelson DVDs
Ben Jones DVDs
Daniel Sullivan DVDs
Many More…
Clothing
Books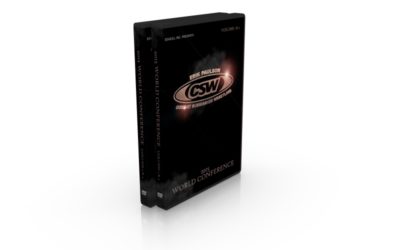 CSW 2015 World Conference – 4 DVD Set. 6 Hours of training in Combat Submission Wrestling, STXKICKBOXING, Olympic Tae Kwon Do, MMA, Wrestling, Brazilian Jiu-Jitsu, Silat Warm Ups, Boxing. Featuring Erik Paulson, Phil Norman, Roger Machado, Roland Ferrer, Fergus McTeggart, Ryan Gray.
read more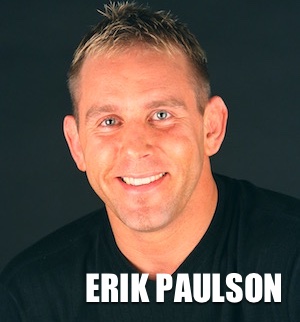 Coach Erik is the founder of the CSW Association and the creator of the CDP – Coach Development Program. The CDP is a program specifically designed to bring up professional coaches that can deliver the various programs of the association. The program not only teaches the curriculum at an advanced level but also how to deliver it as a professional instructor.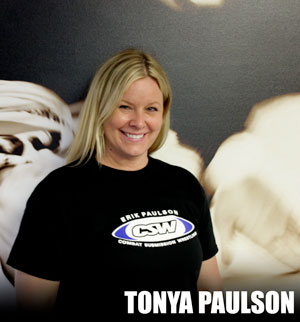 Tonya Paulson is the vice president of the CSW Association, Tonya oversees scheduling of officially certified seminars for the association. Seminars can be scheduled with the association seminar team or with Coach Erik Paulson. Contact Tonya at
tonyapaulson1@gmail.com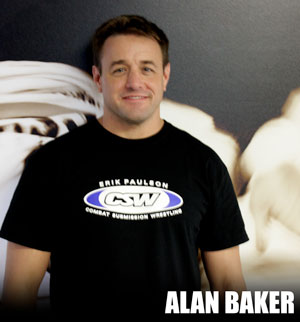 Alan Baker is the Association Director for the CSW Association. He is the primary contact for questions regarding joining the Association or anything related to affiliate operations.
If you are interested in becoming a part of our affiliate team please contact Alan anytime at
cswatlanta@gmail.com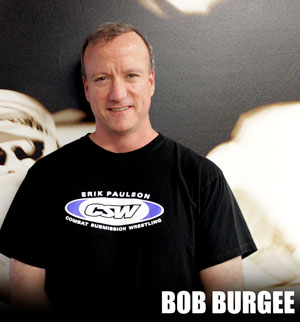 Bob Burgee is the technical director of the CSW Association. Bob oversees the association website, the video archive, online course development, and the CSW store. Contact Bob with any technical question at
robertburgee@gmail.com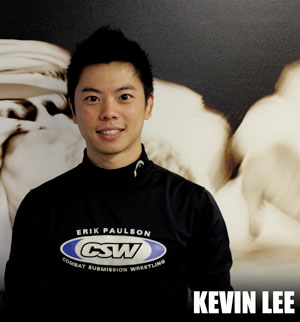 Kevin Lee is a logo designer, editor, and manages the CSW Nesletter.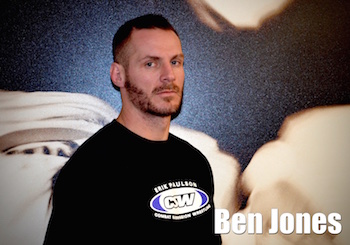 Ben Jones has been with Coach Erik for over a decade. He is a professional fighter and trains with Coach Erik on a daily basis and is fully certified in CSW and STXKICKBOXING. He is also the captain of the CSW Fight Team and CSW Seminar Team.
CSW HEADQUARTERS
Official CSW Training Center - Fullerton, CA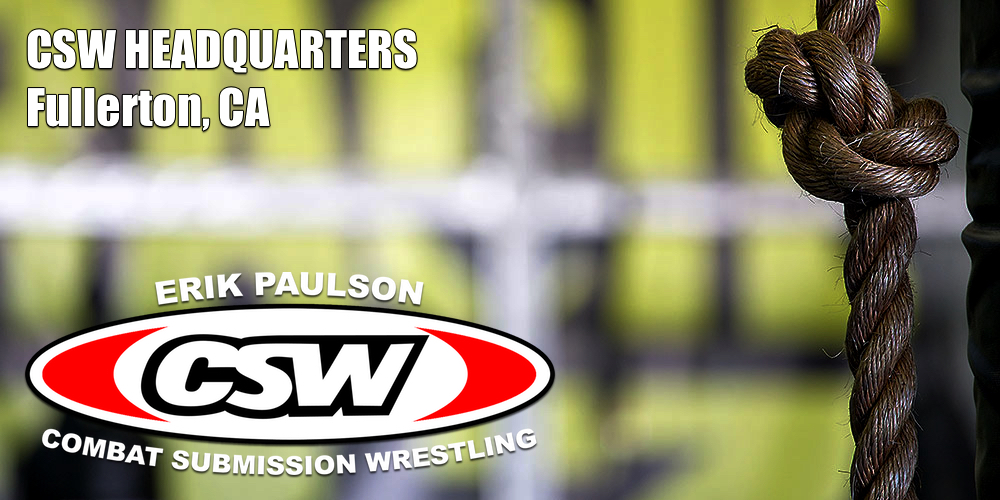 CSW has become one of the largest boxing, kickboxing and mixed martial arts gyms for one simple reason: this is the only place where you can experience, the result of a 20-year commitment of group exercise innovation in striking and grappling. CSW Training Center captures the excitement and challenges of a genuine fight experience in a safe, professional environment.
CSW Headquarters
4080 N. Palm St. #801
Fullerton CA, 92835
714-726-0134
Starting March 26th 2016, Judo Black Belt Marina Shafir will be running a No-Gi Judo Club at CSW in Fullerton. Classes will be held during open mat from 12:30pm to 2pm. This Club is free and open to the public. For more information or questions: call 714-726-0134 or email
cswfullerton@gmail.com
LATEST POSTS
From Our Blog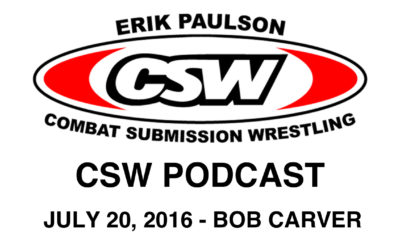 Ajarn Bob Carver sharing some sport science with us! Comprehensive Combatives is a program that Bob will be releasing soon. It is a program to help instructors improve their coaching and analysis to better train their students and athletes. Today we talked about getting proper rest for recovery, energy systems, monitoring your heart rate, and improving your aerobic conditioning.
read more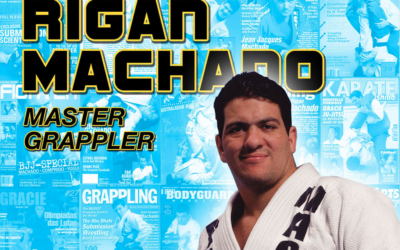 Professor Rigan Machado on Jiu Jitsu training for actors, personal training philosophy, and class structure. He also fills us in on what is happening with the Jiu Jitsu World League.
read more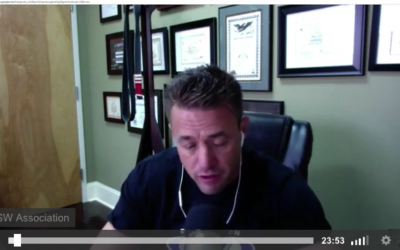 July 12, 2016. Bob Burgee, Alan Baker. Coach & Affiliate Titles, Logos & Symbol Use, Affiliate Detail Pages, Setting Up Your Program, Multiplying Yourself.
read more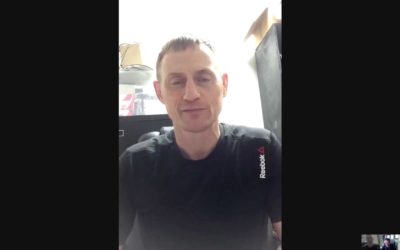 CSW Podcast – July 12, 2016. Greg Nelson shares some behind the scenes stories of Brock Lesnar, UFC 200, Training Fighters, and setting up your Personal Workout Plan.
read more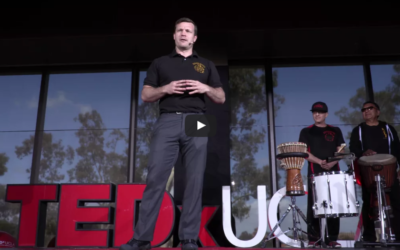 Fantastic presentation by Paul McCarthy on how movement affects the brain.
read more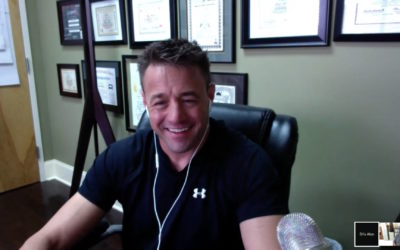 Bob Burgee & Alan Baker discussing ways to keep your workouts on track. Efficiently scheduling your workouts can accelerate the learning process and keep you on track.
read more
LATEST FREE VIDEO
From Our Blog