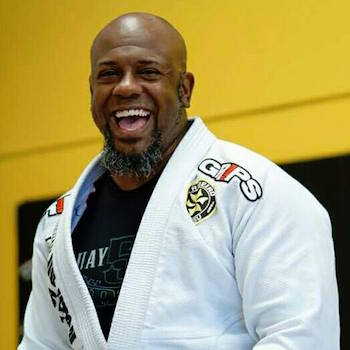 Five Crow Martial Arts
1343 North King St. Suit B
Hampton Virginia 23669
757-806-5868 | Email | Website
Coach Rashad Brown Owner and Head Coach From 1994 to today Coach Rashad has trained in multiple martial arts always keeping self-defense as his main purpose for training. He lives by the principle taught to him by his college Isshinryu Karate instructor, "learn to fight first and then you can learn to play games". Learning to fight has safely brought him through a deployment to Iraq as a team and squad infantry leader and nine years as a police officer. He always tells people that he loves the sports of Muay Thai, Judo, and Brazilian Jiu-Jitsu, but never forgets that the foundation of his martial art is laid in self-defense.
Kru/Muay Thai instructor under Sakasem "The Punisher" Kanthawong
Black Belt in Isshin-ryu Karate under Anthony Gribble, 6th degree Black Belt and head instructor of Pirate Isshin-ryu at East Carolina University
Black Belt in Judo under Kenton Givens, Founder and Lead Instructor Virginia Academy of Judo
Black Belt in Shingitai Jujitsu under John Saylor, founder of Shingitai Jujitsu
Brown Belt in Brazilian Jiu-Jitsu under Pat Tray, owner and Black Belt at Trident Martial Arts
Coach Level 1 Erik Paulson's Combat Submission Wrestling
Jeet Kune Do Instructor under Pat Tray, owner Trident Martial Arts
Filipino Martial Arts Instructor under Pat Tray, owner Trident Martial Arts
Coach Pekiti Tirsa Kali, Under Jared Wihongi Pekiti Tirsa Tactical Association
Level Three Krav Maga instructor in Fit to Fight Defensive Options
From the Ground Up Instructor, Fit to Fight
Sparology Instructor Fit to Fight
Police Defensive Tactics Instructor
Police Ground Defense Head Instructor
Police Undercover Defensive Tactics Head Instructor
Level Two instructor in Modern Army Combatives
Firearms Instructor, Conflict Kenetics. Trained Naval Expeditionary Combat Command sailors in small arms marksmanship.