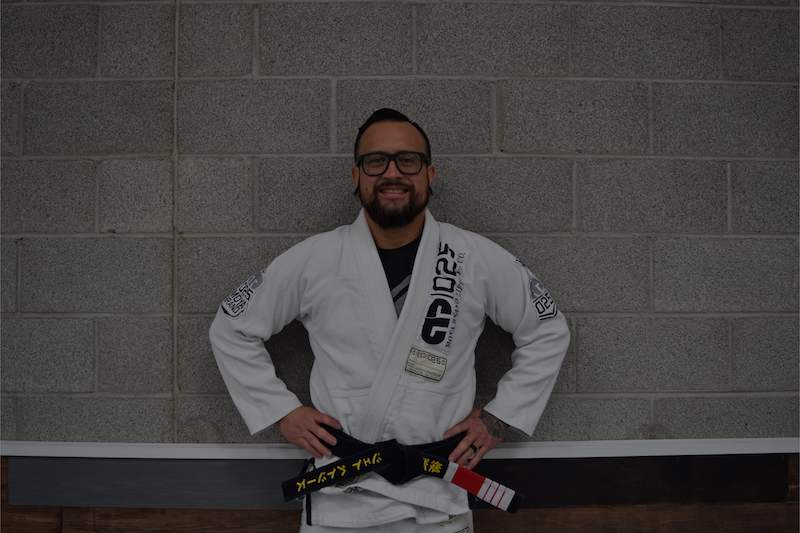 Jay Pages
Jay Pages Jiu-Jitsu & MMA
6745 S Harl Ave, Suite 101
Tempe, AZ 85283
480-747-5706 | Email | Website | Facebook | Twitter
---
Bio
3RD DEGREE BLACK BELT UNDER 12 TIME WORLD CHAMPION, CAIO TERRA!
MULTIPLE TIME IBJJF, NABJJF/SJJIF, AZSBJJF, GRAPPLERS QUEST, AND NAGA CHAMPION AND MEDALIST!
UNDEFEATED IN MIXED MARTIAL ARTS COMPETITION!
JAY PAGES IS A MARTIAL ARTIST, A COACH, A COMPETITOR, A MARTIAL ARTS EXPERT, ABOVE ALL, A STUDENT OF THE ARTS! HE IS A MULTIPLE TIME FULL CONTACT KARATE, MMA, JIU-JITSU, AND SUBMISSION WRESTLING CHAMPION. A GRADUATE OF WESTERN INTERNATIONAL UNIVERSITY WITH AN MBA IN MARKETING, HE HOLDS THE RANKS OF 3RD DEGREE BLACK BELT IN BRAZILIAN JIU-JITSU , 3RD DEGREE BLACK BELT IN JAPANESE JUJITSU, 1ST DEGREE BLACK BELT IN JUDO, AND HE IS A 2ND DEGREE BLACK BELT IN SUBMISSION ARTS WRESTLING (S.A.W.); A JAPANESE HYBRID FORM OF CATCH WRESTLING LED BY HIDETAKO ASO SENSEI. JAY'S VAST EXPERIENCE INCLUDES HAVING TAUGHT MANY DIFFERENT LAW ENFORCEMENT AGENCIES, BOUNCERS, SECURITY, AMATEUR AND PROFESSIONAL MMA FIGHTERS. HAVING FOUGHT PROFESSIONALLY RETIRING UNDEFEATED AND COACHING FIGHTERS AT THE HIGHEST LEVEL OF COMBAT, JAY KNOWS EXACTLY WHAT WILL WORK AND WHAT WON'T. HIS PROGRAM THROWS OUT EVERYTHING THAT DOESN'T WORK AND ONLY TEACHES THE THINGS THAT PROVE MOST EFFECTIVE. THIS TYPE OF EXPERIENCE IN REAL LIFE SITUATIONS IS WHAT MAKES HIS MARTIAL ARTS SCHOOL ONE OF A KIND. IT'S BECAUSE OF THOSE EXPERIENCES, ITS WHAT MAKES JAY METHODS SO EFFECTIVE. IT HAS LEAD HIS STUDENTS TO HOLD TITLES IN BOTH MMA AND MUAY THAI. BOTH AMATEUR AND PROFESSIONALLY! HE HAS ALSO, PROFESSIONAL SUBMISSION ONLY ATHLETES, AS WELL AS TRAINING STATE, NATIONAL, AND INTERNATIONAL CHAMPIONS IN BJJ AND SUBMISSION WRESTLING. JAY'S EXPERIENCE IS QUITE VAST. THE EXPERIENCE HE CARRIES OVER TO HIS STUDENTS IS SECOND TO NONE! HE IS WELL VERSED IN WESTERN BOXING, WRESTLING, CATCH WRESTLING, MUAY THAI, SILAT, BRAZILIAN JIU-JITSU, SAMBO, FILIPINO MARTIAL ARTS, AND MIXED MARTIAL ARTS. JAY FEELS HE IS NOTHING MORE THAN A STUDENT OF THE MARTIAL ARTS AND WILL ALWAYS STRIVE TO BECOME A BETTER MARTIAL ARTIST BY CONSTANTLY LEARNING!
NOVEMBER 1ST, 2007, JAY RECEIVED HIS BLACK BELT
DECEMBER 8TH, 2012, JAY RECEIVED HIS 1ST DEGREE BLACK BELT FROM 3RD DEGREE BLACK BELT ARTHUR RUFF!
APRIL 18TH, 2014 JAY RECEIVED HIS 2ND DEGREE BLACK BELT AND HIS 3RD DEGREE BLACK BELT
FEBRUARY 1ST, 2017 FROM 3RD DEGREE BLACK BELT CAIO TERRA.
JAY IS AN OFFICIAL CAIO TERRA BJJ ASSOCIATION AFFILIATE, A SPORT JIU-JITSU INTERNATIONAL FEDERATION AND INTERNATIONAL BRAZILIAN JIU-JITSU FEDERATION REGISTERED AND CERTIFIED BLACK BELT!
SATURDAY, NOVEMBER 14TH, 2015, JAY RECEIVED HIS 2ND DAN BLACK BELT IN SUBMISSION ARTS WRESTLING AND BLACK BELT IN TEWHONTATIENAS CATCH WRESTLING UNDER 5TH DEGREE BLACK BELT MIKE MARTELLE.
JAY IS ONE OF 6 S.A.W. BLACK BELTS IN THE WORLD!