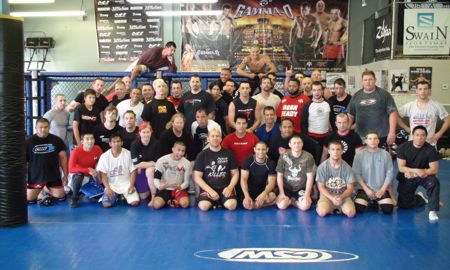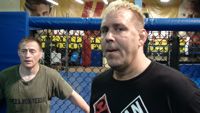 The annual CSW Camps are usually awesome, and this year's camp was no exception. Erik Paulson and Greg Nelson continue to hone their craft and are two of the best coaches in the business. Always humble, always learning, and always sharing their knowledge.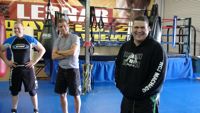 Day one started with kickboxing, and some hard sparring with the pros. They went right at it immediately to get things started with a bang this year. You'll see some very cool sparring footage on the upcoming dvds and online soon. The first guest instructor was Rigan Machado. What can we say, he is as amazing as ever. His relaxed demeanor makes him very approachable and easy to learn from. It is a pleasure to watch an instructor take his time and really get into the fine details of a technique. You will not be disappointed. Of course there was more sparring and rolling. Hey, this is Erik Paulson's gym! No slacking!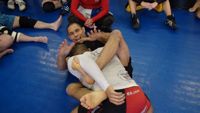 The guest instructor for day two was Javi Vasquez and he showed some absolutely beautiful Jiu-Jitsu work. We caught some great rolling sessions with him too. You'll see a guy who is as relaxed as it gets and can really apply what he teaches.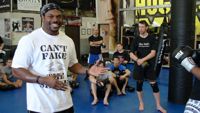 Day three's guest instructor was Marvin Cook. Marvin is a student of boxing and always focuses on the fundamentals. Just when you think you are ready for more tricks, Marvin can show you that you don't quite know how to throw your jab yet. He is a wizard of balance. Watching him move is like watching water. Greg Nelson mentioned one of Marvin's comments from a previous camp, "I'll bet you can punch hard, but I'm just not that curious." Why stand there and take shots if you don't have to? His footwork and hip placement fundamentals will keep any fighter more balanced. Marvin teaches private lessons on a regular basis at the CSW Training Center.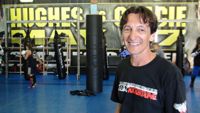 Day four's guest instructor was Nicolas Saignac. He shows beautiful Savate conditioning drills and some sparring technique. This gentleman is extremely fast and elusive. He moves around the ring like a cat and is, to quote Erik Paulson, "like a surgeon with his feet." Just when you thought your kicks were good, Nicolas will show you how to get better.
What can I say, another year, another awesome camp. Oh, but I almost forgot. As if this is not going to be enough material for you guys, we also took this opportunity to shoot new instructional material. Greg Nelson's Clinch 3 & 4, and Erik Paulson's Wrestling for MMA. Look for these titles very soon here and remember to Train Well! Now, I must get back to editing this mountain of new footage! Stay tuned!
Finally, thank you to all of the students and instructors who attended and supported the camp. You are the ones who keep this thing going and it is a pleasure to watch all of you train hard and give it everything you have. Well done.
Bob Burgee.