Bruce Wilkerson
American Gym
Costa Mesa, CA
626-379-7432 | Email | Facebook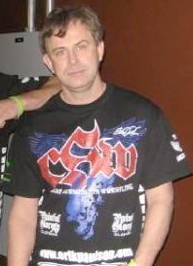 Bruce Wilkerson has been training in the martial arts since 1978. Bruce started in the Japanese style of Shotokan karate. In 1985 Bruce began studying with Tim Tackett in Bruce Lee's Jeet Kune Do, as well as Filipino Kali, Muay Thai, boxing, and submission grappling. Later that year he also enrolled at the famed Inosanto Academy, run by former Bruce Lee student and leading exponent of Jeet Kune Do, Sifu Dan Inosanto. Bruce also began training with leading Inosanto student Burton Richardson. Bruce also trained in Muay Thai with Ajarn Chai Sirisute, in Pentjak Silat with Pendekar Paul DeThours, JKD/Kali with GuroTed Lucaylucay, Shootwrestling with Sensei Yori Nakamura, Savate with Professor Nicolas Saignac, JKD grappling with Sifu Larry Hartsell, and Wing Chun with Sifu Jaques Moramarco and Sifu Augustine Fong. Bruce has been a student of Brazilian jiu-jitsu under various instructors, primarily Erik Paulson, but also under Joe Moreira, and Richard Briesler. Bruce has been a friend and student of Erik Paulson's for over 30 years and holds a representative instructor certificate under Erik.
Bruce taught classes at CSW headquarters from 2007-2015.
Instructor in Jeet Kune Do under Sifu Tim Tackett
Instructor in JKD/Kali/Muay Thai/Pentjak Silat under Guro Burton Richardson
Instructor in Combat Submission Wrestling/STX kickboxing under Sensei Erik Paulson
Moniteur instructor in Savate under Professor Nicolas Saignac
Purple belt in Brazilian Jiu-jitsu under Erik Paulson
Advanced student in Wing Chun Gung Fu under Sifu Jacques Moramarco
Advanced student in Pentjak Silat Butki Negara under Pendekar Paul Dethours
Advanced student in Shooto under Sensei Yorinaga Nakamura
Copper certified coach in USA wrestling